---
"Das Erdkampfabzeichen der Luftwaffe"
Författare Sascha Weber
Eget förlag, första upplagan 2007
Format A5, 132 sidor
Pris 22 €

Boken utgör enligt uppgift från författaren nummer 2 i serien "Die Kampfabzeichen…" vilket ej framgår någonstans i boken.

I varje fall är boken på tyska samt skriven av en tysk författare vilket innebär att vi slipper översättningsfel, felstavningar samt okunskap om Tysklands historia och geografi som brukar behäfta engelskspråkiga referensböcker.

Boken är upplagd på ett bra och tydligt sätt i likhet med författarens övriga böcker. Efter en historisk inledning redovisas 16 olika varianter av markstridsutmärkelsen noggrant med tydliga bilder och detaljerad information om mått och vikt med mera. Som jämförelse kan nämnas att det i referensverket "Combat Badges of the Third Reich - Luftwaffe" endast redovisas hälften så många, åtta.

Boken innehåller även avsnitt om etuier, förläningskuvert, urkunder, miniatyrer och 1957 års version av markstridsutmärkelsen. En fördel är att detta finns samlat i särskilda avsnitt och ej belastar bokens intressantaste del vilket ofta är fallet i referensböcker.

De sedvanliga soldatfotona som enligt min mening är helt onödiga och bara stjäl utrymme finns också företrädesvis i bokens inledning samt i slutet vilket också är en fördel.

Ett mycket bra initiativ av författaren är att redovisa detaljerad och fördjupad information om de vanligaste tillverkarna, det rör sig om sju stycken. Att Junckers fabrik skulle ha förstörts av bomber 1944 är dock ifrågasatt, det finns bomkartor som tyder på att det skulle ha skett så sent som februari 1945.

Med detta sagt har jag följande invändningar:

- Det finns ej någon numrering av de olika tillverkarvarianterna. Vid hänvisning till denna bok får man i stället använda sidnumren

- En snabbguide hade gjort boken mer användbar.

- På sidan 24 visas ett omärkt exemplar som tillskrivs Gustav Brehmer med en mycket tunn bevisning, endast liknande gångjärn som på märkta exemplar åberopas.

- På sidorna 50 och 54 visas likaledes omärkta exemplar som tillskrivs C.E.Juncker med lika tunn bevisning. Kanske dessa tvivelaktiga identifieringar gjorts på något forum där ingen vågar säga emot "experterna".

- Fotot på sidan 61 är intressant men den angivna graden är fel. Fotot föreställer en Unteroffizieranwärter.

- Varianterna av Arno Wallpach på sidorna 62 och 66 är så extremt lika så man frågar sig varför bägge redovisas.

- På sidan 102 samt på bokens baksida visas en urkund med angiven underskrift av generalmajor Hellmuth Pätzold. Men det kan inte stämma, han lämnade den angivna enheten långt tidigare och det syns att det står ett helt annat namn.

Allra sist redovisas några förfalskade objekt. Mycket informativt givetvis men att redovisa kopior i en referensbok är inte helt okontroversiellt. Risken finns alltid att nybörjarsamlare tror att objekt som inte återfinns i avsnittet kopior därmed är äkta. Flödet av förfalskningar är ju så intensivt att information i bokform snabbt blir inaktuell.

En svaghet som inte har med innehållet att göra är att inbindningen är undermålig. Efter en tids användning lossnar sidorna.

På sidan 53 förs ett resonemang som går ut på att ett omärkt exemplar kan identifieras om samma nålsystem finns på ett objekt med märkning, även om det rör sig om en helt annan utmärkelse till och med. Denna bevisföring känns igen från de internationella forumen men är ohållbar eftersom nålsystemen ofta tillhandahölls av underleverantörer. Gemensamt nålsystem behöver alltså inte betyda en och samma tillverkare, det kan lika gärna bero att två tillverkare anlitat samma underleverantör.

Efter denna första upplaga från 2007 har det kommit en upplaga på engelska som kommer att recenseras här i sinom tid. Med utökat antal sidor, 144. Intresserade samlare bör givetvis i första hand köpa den nya utgåvan.

För dem som i likhet med mig även samlar referensböcker rekommenderas även denna första utgåva trots smärre svagheter.
Bilagor: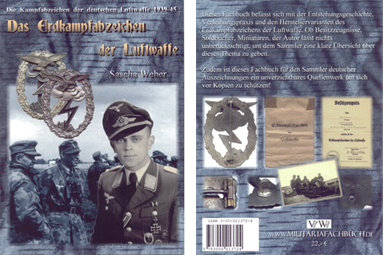 140315 2.jpg [ 128.28 KiB | Visad 3505 gånger ]